27/10/10 – Nigel Slater
Nigel Slater's Simple Suppers on BBC1.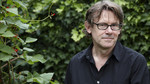 http://www.bbc.co.uk/iplayer/episode/b00vy5wd/Nigel_Slaters_Simple_Suppers_Series_2_Making_Things_Go_Further/
I like Nigel Slater a lot. He looks like an old boyfriend so I get to vicariously imagine how the years might have treated this other person without having to stalk them in real life. He also does good cooking.
He has written some of my favourite cookbooks and his attitude to recipes is the same as his take on ingredients. He will adapt and tweak to give you thirty meals from one basic idea, all of which will be simple, tasty and useful. Even if I wasn't keen, I know he is good because friends-who-cook have given me his book as presents.
I covet the allotments, and watching makes me hungry. I'm not sure he is entirely appropriate for current times – his store cupboard ingredients still seem high end and it is hard to believe he is really that frugal with leftovers in his immaculately appointed kitchen, but I forgive him all of this for his banana cake recipe and his salmon and watercress tart.
Plus I get to tantalise myself with thoughts of parallel-universe-lives.
Posted: December 1st, 2010 under Feeding your Family.

Write a comment